Loc8tor Plus
Although the LOc8tor Plus does not fall into the GPS Tracking category, it can be used to track lost pets, children, and portable items.  It uses radio frequencies, so it can be used in locations where cell reception is not av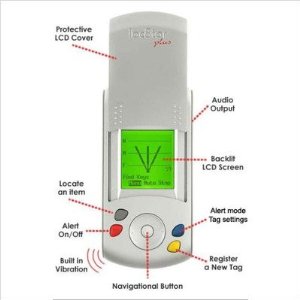 ailable.  It's range is up to 600 feet.  In addition to using the Loc8tor Plus for lost pets, the device can also be used to track children and personal possessions that are often misplaced.  The system comes with 3 mini homing tags, however, the hand held tracking device can track up to 24 tags separately.  The tags weigh only .175 ounces each and can be attached to your dog's existing collar.  You can attach the tag to an object, like a remote, with one of the sticky tabs provided.  If you want to use the tag on a child, it is best to buy a Silicon splash proof wrist strap.  The tags can be used in Alert or Locate mode.  In alert mode, if the object your homing tag is attached to leaves your user-set boundary, the handheld display device will vibrate, an audible alarm will sound, and the display will indicate which item (pet, child, or object)  has gone out of the safety zone.  In Locate mode, the Tag (attached to the item) beeps to help guide you in whilst the Handset actually points you in the direction to walk using clear audio and visual prompts – just follow the direction with the strongest signal.   After turning the handset on and selecting the tag you want to find from the drop down window, you turn around in a full circle keeping the handset pointing straight in front of you. You then walk in the direction of the strongest signal. The Loc8tor uses audio with varying pitch – higher when you are pointing in the right direction and visual – Increased lines and signal strength to indicate you are getting closer.
In addition to the 3 mini homing tags, the system comes with one panic homing tag.  Along with the capability of being used as a homing tag, the panic homing tag contains a panic button enabling a child or dependent to call for help. When pressed, it activates an alert alarm on the handheld advising which child activated the Alarm. Although this is obviously a feature that would not apply to your dog, it's ideal as a personal alarm for a child or dependent and can be used on a beach, in a park or shopping center to name but a few.
The handset runs off of 2 AAA batteries which are included, and each tag runs off of 2 1.5 volt button cells, also included for all tags.  The life of all the batteries is approximately 7 months, based on 1 locate per day.






by