Marco Polo
The Marco Polo dog tracking system is one of the few radio transmission based systems that allows you to set up safety zones for your dog. The system provides the ability to set up 4 programmable safety zones for each dog and can monitor up to 3 pets.  The smallest zone you can set up is 50 feet, whi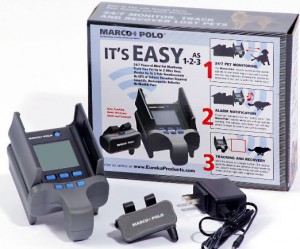 ch is much smaller than a cell based GPS system, thus making it ideal for small homes and yards.  If your dog leaves the safety zone, you will be notified via the handheld locator in 80 seconds or less.  That's much faster than cell based systems.  If your pet goes missing, all you do is press one button on the handheld locator to start tracking and follow the onscreen arrow.  As you search for your pet, Marco Polo acts like a personal radar system, scanning the surrounding area, including the interiors of homes and backyards.  The system's range is up to 2 miles in an open area, one half to one mile in rolling hills terrain with few obstructions, and approximately 2,00 feet in a dense suburban area.  If your dog is not within the system's range, the device will continuously scan the surrounding area as you drive or walk around. Once your pet is within range the Marco Polo locator will guide you directly to their exact location, within inches.
The Marco Polo dog tracking system comes with a hand-held portable locator, one collar tag, a charger, a quick start guide, and a user guide.  Up to 2 additional collars can be bought separately to allow you to monitor and track up to 3 dogs.  Each collar tag comes with a preset ID number with no 2 ever being alike, which ensures no interference with other Marco Polo systems.  If one of your dogs leaves the safety zone, it will set off an alarm on the portable handheld locator for that specific tag.  The tags attach to your d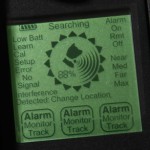 og's collar, weighs only 1.75 ounces, and can be used on dogs weighing 10 pounds or more.  They are weatherproof and will operate in temperatures from -13°F to 125°F.  The tag's rechargeable lithium-ion battery can last up to 90 days while it is continuously monitored.  The charge in the rechargeable lithium-ion battery in the handheld locator can last up to 3 days when in continuous tracking mode.  It is suggested that you keep the locator plugged in when not in use so that it will be totally charged when needed.
Due to the fact that the Marco Polo dog tracking system does not use GPS and does not require a cell network, there are no service contracts or monthly service cellular fees, which can save you hundreds of dollars over the lifetime of the system, compared to cellular subscription-based devices. Also, since the system is totally self-contained, it will work anywhere and is ideal for remote locations, hiking, camping, and traveling with pets.  No internet accounts or web based setups are needed, so the system is ready to use right out of the box.  The drawback to the system not being cellular based is it's limited range of 2 miles or less.
An additional advantage of the Marco Polo dog tracking system is that since the tag is a stand alone device that is not built into a dog collar, it is portable and is easily transferred from one object to another.  That means it can be used to track your car, your children, or any other property that is portable.
Marco Polo Dog Tracking Device
Pros
One of the few radio transmission based systems that allows you to set up safety zones for your dog
Ideal for small homes and yards
No service contracts
Cons
Limited range
Could be affected by moisture
No status indicator lights for charging






by