Garmin Astro 320 T5
The Garmin Astro 320 T5 Dog GPS Bundle is the premier high-sensitivity GPS-enabled tracking system for sporting dogs.  The system can track up to 10 dogs at a time up to a distance of 9 miles away, depending upon the terrain.  It has advanced mapping with optional BirdsEye Satellite Imagery and TOPO maps.  The handset contains a vibrant sunlight-readable 2.6 inch readable display.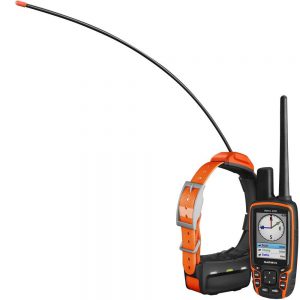 The collar has a top-mounted GPS antenna designed to keep its flexible, braided stainless steel radio antenna upright for best reception so you can track your dog even in heavy tree cover and deep canyons. The tracking device on the collar is water-rated to 10 meters.  Collar Lock creates a 4-digit PIN number that helps prevent others from seeing your dog's whereabouts
The tracking device transmits your dog's position to the Astro 320  handheld every 5 seconds.  You can see your dog's current location and a trail of where it's been on the map page. Switch over to the Dog Track page to view a compass pointing to your dog's location.
When tracking multiple dogs you can also see each dog's exact distance on the map page, and you can choose to auto zoom the map so all dogs can be seen on the display at any time.  You can also set the duration that each dog's track log is viewed on the display, or toggle it off completely.
When the battery life drops below 25 percent, the rescue mode kicks in which reduces the update rate in order to preserve battery life. When you set your update rate, the battery will last anywhere from 16 hours to 40 hours.  In rescue mode, the battery lasts 24 to 44 hours.
After you've captured your quarry, mark the exact spot with Astro's Covey Counter™, a special waypoint that tells you the exact location, time of day and elevation where you found your prey, as well as the number of birds you flushed and took from that location.
Garmin Astro 320 T5 Dog GPS Bundle






by